So, what is Mentoring? and who needs it?
"Mentoring is to support and encourage people to manage their own learning in order that they may maximise their potential, develop their skills, improve their performance and become the person they want to be." Eric Parsloe, The Oxford School of Coaching & Mentoring
Mentoring is a powerful personal development and empowerment tool. It is an effective way of helping people to progress in their careers and is becoming increasing popular as its potential is realised. It is a partnership between two people (mentor and mentee) normally working in a similar field or sharing similar experiences. It is a helpful relationship based upon mutual trust and respect. [This definition comes from the Mentor Set website. To see the full article, please click here.]
Why is it important to mentor women and young girls?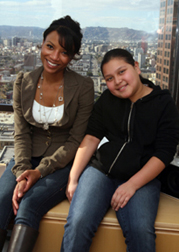 You've been hearing it everywhere, from the United Nations to The New York Times: When we support the growth and empowerment of women and girls, we raise the quality of life for everyone. This is because when women lead they not only lead businesses, they lead in their community, they fight for their children, and they give voice to issues that are important to our collective future — like education and health care. Mak
es sense to me. [This is from Taby Biddle's piece in The Huffington Post. For the full article, please click here.]
The Healing Wings Support Mentoring Programme
This is a specialist mentoring programme for women, young adults, teens and young girls, to encourage their ambition and empower their self-confidence. The program will also keep them on track by helping them set goals and work towards achieving those goals.
Is your teen getting out of control?
Mentoring could help her, so please, get in touch with us now.
The benefits of our Mentoring Programme include:
Mentoring Women: To move from A to B in their lives, with Self-empowerment
Build more self-confidence
Deter girls from crime, drugs / alcohol and joining bad company
One to one support for you and your loved ones
This support is free
We offer a mentoring programme, to help women and girls who feel stuck.
Mentoring Location/s:
This service is available at our Whitton/Hounslow Venue.
Mentoring Venue: Whitton/Hounslow
Calendar – Our Support Group Sessions:
We run regular Support Groups every two weeks. Please have a look at our schedule, located at the bottom of the "Support Group" page, or press this link to take you there.